Cauliflower Pizza Crust
I absolutely LOVE pizza, but I don't like how I feel after eating it.  I don't know about you, but just one slice doesn't cut it.  As someone who has started on a much healthier lifestyle the last few years, I am so excited to discover this delish pizza made with the oh-so-healthy cauliflower. It is so easy to make that even I, the non-cook, can make it!!  I am showing you in my video below, my quick shortcuts to making this even easier and you don't even need a food processor.  I will also provide the food processor instructions, too, just in case.   And I promise, it doesn't taste like a "healthy" pizza nor does it taste like cauliflower.
Anyone out there doing Keto? Low Carb? Gluten Free? Or maybe you just want to get healthier???
You will absolutely LOVE this pizza crust.  So delicious and easy to make.
Cauliflower Pizza Crust
Ingredients:
1 bag of riced cauliflower (approx 4 cups)
1/2 cup grated parmesan cheese
2 eggs, beaten
1 tsp italian seasonings or fresh herbs of your choice
1/2 tsp crushed garlic
1/2 tsp salt
toppings for pizza can be your favorite pizza sauce, pesto sauce, olive oil, etc.
Instructions:
1.  1 bag of riced cauliflower  (if you have this, proceed to #2)   OR To rice the cauliflower, cut florets into chunks and pulse in a food processor until you see rice-like bits. You could also use a cheese grater to produce the tiny pieces. Do not over process, you don't want mush.
2. Microwave the riced cauliflower in a bowl for 4 minutes, stir, then continue for 2 more minutes, depending on your microwave. No need to add water.  After microwaving, you may want to cool it off just a bit and then transfer riced cauliflower to a clean dish towel and wrap the sides around the cauliflower while gently pressing out excess water. This drying process is important!
3. One bag yields approximately 4 cups or One large head of cauliflower will yield about 3 cups of riced cauliflower.
4. Preheat oven to 450 degrees. Spray a cookie sheet with non-stick cooking spray or put parchment paper onto a cookie sheet.
In a medium bowl, combine 1 cup riced, cooked cauliflower, 1 egg and your Parmesan cheese. Next, add Italian seasonings or fresh herbs, crushed garlic and salt. Making sure everything is well mixed, place your "dough" on the cookie sheet and pat out a round or rectangular pizza, depending on your cookie sheet. Be sure not to press it too thin as it's easy to create holes, but definitely not too thick either.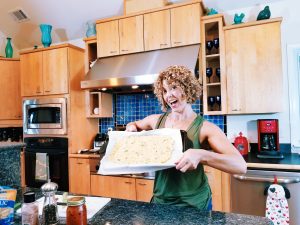 5. Bake your dough at 450 degrees for 20-30 minutes (really depends on how thick you made your pizza, so keep checking it)
6. Remove from oven. Add sauce, mozzarella cheese, and your favorite pre-cooked toppings to your pizza. Place pizza under broiler just until cheese is melted, be sure to keep an eye on it!
As you can see, I was not too creative because all I had on hand was spaghetti sauce, skim mozzarella and turkey pepperoni.  My favorite toppings to use are pesto sauce with Parmesan cheese and chicken or shrimp!   But, this was so amazing and tasted like a regular pizza!  My hubby loved it too; we inhaled it!
I hope you enjoy this wonderful cauliflower pizza crust recipe!
Make sure you follow me on YouTube, Like and Subscribe so you miss nothing fun!!
[embedyt] https://www.youtube.com/watch?v=agOj0cXArGQ[/embedyt]
Other "healthified" recipes
Tell me what you think about this pizza and your favorite way to prepare pizza.