Chicks, Chocolate and Wine!
What's not to love about this trio??? Did you know that the North Georgia Mountains and Dahlonega-Lumpkin County is the Heart of Georgia Wine Country???   Did you even know Georgia had a wine country? Who knew???   I had no idea until my mother and I went on a spa retreat a few years ago.  We fell in love with this beautiful place called the Dahlonega Spa Resort.  Come to find out, the resort is surrounded by many wineries.  My mom and I had such a blast enjoying healthy meals (and delicious, too), spa treatments, touring wineries, and of course, just bonding girl-time.  
We decided we wanted to share this amazing place with a group of like-minded ladies, where we can meet new friends, grow stronger in our faith, enjoy Christian yoga classes, cope better with stress through our workshops and of course relax in a beautiful mountainside spa resort and enjoy some chocolate and wine.  
Come October, right before the busy holidays, we will SOOOO need this 4 day getaway!  And what's most important, is that we take this time for SELF-CARE (see blog post on Self-Care; Click Here)   This STRONGER TOGETHER retreat will be coming in at a perfect time to get away and reduce some stress and take care of YOU!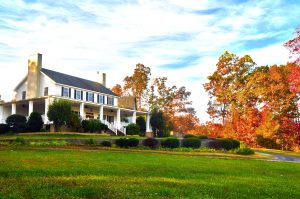 For those that sign up before 9/30, you will get $50 OFF for you and a friend!!!   I cannot wait to begin this journey with all of you!  We are going to have a blast enjoying the mountains, friends, wine, chocolate, relaxation and so much more. You will be receiving a goodie basket upon arrival with a special gift my mom and I are in the process of writing now!  We will be using this gift as part of our workshops. 
Cannot wait for October to get here!!!
If you have any friends you'd like to join us, make sure you forward this onto them and send them HERE.  The more the merrier.  
For more details and to get your $50 off coupon, CLICK HERE