Do you feel like the Grinch during the Christmas season?
The holidays can be a rough time for so many and also a time of great stress.
Sometimes we get so bogged down, we forget WHY we even celebrate this joyous season.
I want to share with you how you can keep your faith during this crazy, busy and tough time for you and your family.
Is this you during the holidays?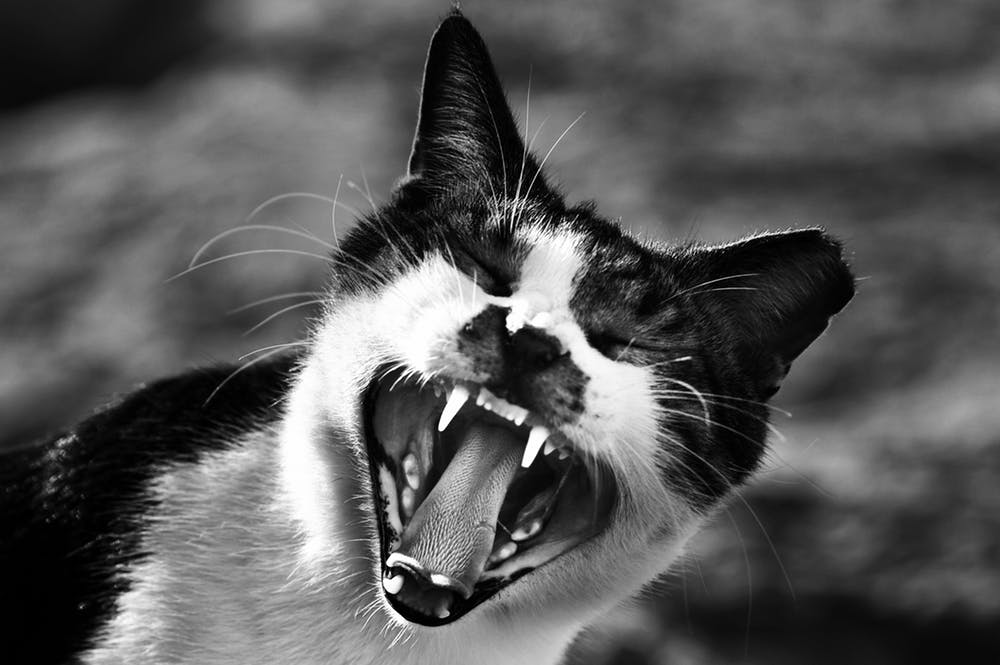 Believe me, I have had some rough holiday seasons and managed to just cry during the entire month of December.  So I know all about it.
This is supposed to be the most joyous time of year and we are supposed to remember why we celebrate this HOLIDAY.  This time of year is not supposed to be full of stress, sadness, buying gifts, and running around like a crazy person.  It's about the birth of our Savior, Jesus!  That's the reason we CELEBRATE!  But I do realize that this can be an incredibly rough time for so many of you.  And trying to celebrate is just not possible.
I want to help you find small and simple ways to fit God into this busy, stressful and sometimes sad, time of year.
_____________________________________________________________________________________________________
New Here???  
Check out some of my recent posts related to this topic:
Check out my FREE Ebook: "But First, Pray"
_______________________________________________________________________________________________________
How to Find Hope During the Holiday Season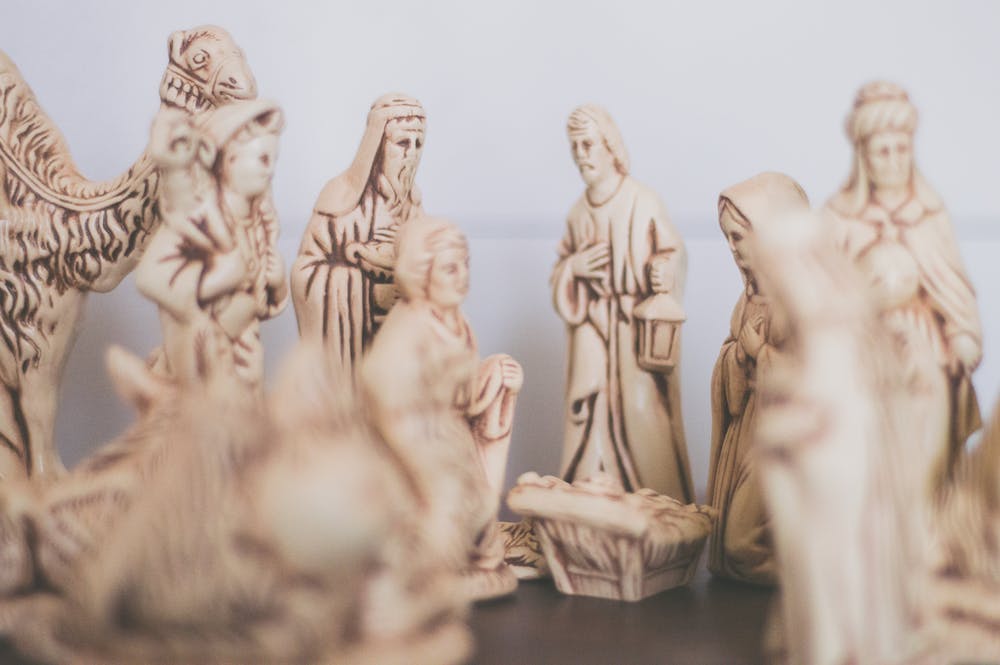 God knows all about what you're going through now and every day.  BUT, we must remember that God can pull us through anything, IF we make that time for Him; yes, even during the busy Holiday season!
You are never alone, even if it feels like it sometimes.  And I can promise you that there is light at the end of this stressful time for you.  God is the same during Christmastime, as well as the spring and the summer.  He loves us unconditionally at ALL times of the year.  We know that we can always count on Him.
Top 10 Ways to Stay Focused on God during the Holiday Season
Pray – How can this not keep us focused on God????  This should be numero uno and I suggest you make this a daily habit in your life, whether it's Christmas or not.  God wants to hear from us all day long.  If you're going through a particularly stressful or sad day, stop what you're doing and pray!  It requires no special place, time, outfit, or occasion.  We can literally pray to ourselves at any time or place.
Read God's Word – I personally feel that God wants us to start everyday in His Word.  I even wrote a blog post on this very topic.  And reading the Bible does not have to be crazy hard or even overwhelming.  Check this out:Easiest Ways to Start Reading the Bible  I can promise you, the Bible can be an easy undertaking, try it out.  Of course, if you prefer to read the Bible in the afternoon or even at night, totally up to you.  Just try to get His Word in at some time during the day.  You'll especially be needing it during this difficult Holiday season.
Volunteer – How can we not focus on God when doing something to help out others???  God wants us to help our fellow man and this is such a great way to take our minds off of our own troubles.  I can speak from experience: before I met my husband, I went through the most horrific heartbreak, right before Christmas!!  It was all I could do NOT to cry 24/7 and sometimes I did.  So I literally poured myself into all kinds of volunteer opportunities.  I volunteered at church, AARP events, helping pack boxes for the military, helped out at a church singles event, and so much more.  I had to do something to not feel so sorry for myself.  It truly did help take my mind off of things.  With our awesome internet now, it's easy to find volunteer opportunities.  Try your church, Google, AARP (no you don't have to be a retiree to volunteer with them), etc….
Participate in Christmas Festivities  – You may be thinking that you don't feel like joining in the festivities.  BUT, this truly can take your mind off of your own troubles and see the delight in other's faces.  There are so many things to enjoy during the holiday: tree lighting's, candlelight services, nativity scenes, choir performances, parties, etc.  Don't sit at home and feel sorry for yourself OR be doing so much that you miss out on these fun activities that celebrate Jesus' birth.
Get your Vitamin D – this is also known as the SUN!  God did create this beautiful masterpiece, after all.  Getting some sunshine in can not only be good for you but brighten your mood, too.  I truly hope you live somewhere where there is sun!!
Allow Yourself to Grieve – I realize that for some of you, Christmas is a very sad time and you may not want to join in on any holiday activities.  But most importantly, allow yourself this time to grieve.  It's important that you don't bottle it up inside of you.  You need to express yourself and let it all out.  You can't force yourself to be happy if you are going through a really tough time.  At the same time, make sure you don't shut yourself off to the world either.  Friends and family can truly help you get through this.  And true friends won't be expecting anything from you, just companionship.
Self Care – You must take care of yourself and rest.  This is such a busy time of year and most people are running from one thing to the next.  You gotta take care of YOU!  Take some time for a mani/pedi, a massage or just stop and get a coffee and relax….  Please don't run yourself ragged.
Stay Active and Healthy – We are living in God's temples, so we need to take care of them.  God does not want us to neglect these bodies, right????  You may be busier than normal this time of year, but it is so important to keep moving.  Whether you go for a walk in the morning, do a quick yoga workout (my YouTube channel has some quick and easy ones.)  I also like to put on worship music and stretch, walk or run to that.   Also, don't just blow it everyday because it's a holiday and there are good cookies everywhere.  Try just a cookie or 2, but for the rest of your meals, keep it very healthy.  I promise you'll enjoy it more because you won't be so full, bloated, miserable and tired from all of that bad food.  Here's a fun Christmas routine you can do with me.  [embedyt] https://www.youtube.com/watch?v=CbDka8LzDWY[/embedyt]
Set Boundaries – Everyone wants a piece of us this time of year.  Christmas parties, friends visiting, kid's activities, overtime work, and so much more.  You do NOT have to do it all!!  Set boundaries and only do what's necessary.  Do not say YES to ALL things!  Remember to spend quality time with your family and friends this year and don't do it all!
Praise God – You may be thinking that you don't feel like praising God for anything right now.  BUT, God has brought you to another holiday season.  He still has great plans for you! You may not feel like praising anything, but the more we worship the Lord, the better we will feel.  Cry out to Him, yell at Him if you need to, but remember; He is your Lord and He has something great in store for you.  Psalm 34:1-3  I

 will praise the Lord no matter what happens. I will constantly speak of his glories and grace.  

I will boast of all his kindness to me. Let all who are discouraged take heart. 

3 Let us praise the Lord together and exalt his name.
I know this can be such a hard time for so many of you, but I truly want you to remember why we celebrate this day and focus on HIM!  and get yourself a fun holiday drink and relax in the coffee shop with that bevvie!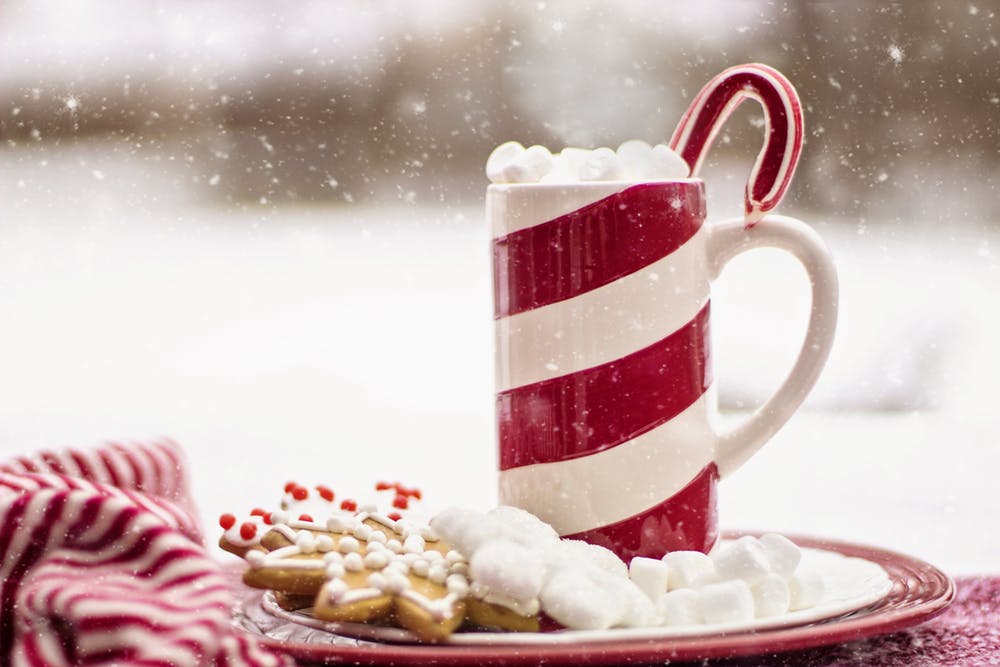 Tell me how you like to spend the holidays?  How do you cope with holiday stress?