Easiest Ways to Start Reading the Bible
Have you been wanting to start reading the Bible, but it's so big and so overwhelming you don't even know how to start?  GG to the rescue!!!
I want to help you with simplifying reading that huge book, called The Bible. I know that reading the Bible can be overwhelming. It's a massive book, and a big undertaking. But I'm going to simplify it and teach you the ways that I started READING THE BIBLE.
There is no perfect way to read the Bible; no right way and no wrong way. I'm just going to teach you what worked best for me. There are so many different ways that you can start reading the Bible now, and luckily with technology, there are so many apps out there that also help you with that. I'm just going to teach you the easiest way that I started reading that might help you.
Romans 10:17  
Faith comes from hearing and hearing through the Word of Christ.
_________________________________________________________________________________________________________
New Here???  
Check out some of my recent posts related to this topic:
Why You Must Practice Self Care
_________________________________________________________________________________________________________
READING THE BIBLE: Journal & Bible
First and foremost, I want you to pick a journal and a Bible. If you already have a Bible, then you're already covered. If you already have a journal, then you have that covered, too. But journal shopping can be fun! So you can go to the bookstore and pick out a really pretty journal – or a card shop, gift shop, Christian shop, etc. Journals are everywhere these days.
Next, we need our Bible!  Remember, this is what will work best for YOU!  You can shop online (of course I'm an Amazon gal myself) or get the Bible on an app – the app I like the best is called YouVersion; That's a great way, especially for travelling or if you just like to have your Bible easily at your fingertips.
If you're like me (and old-school, LOL), you really want to have the Bible in front of you and you want to be able to write in it and highlight it – I would suggest buying a Bible. They're not cheap, just FYI, but of course SO WORTH IT, I mean, hey, it's God's Word after all!!  I suggest a study Bible. The Bible can be overwhelming and very hard to read and in a language that we're like, "Oh what in the world are they saying?"  I suggest a study Bible, because there are so many footnotes at the bottom of the study Bible that help you understand each verse. And that's what helped me tremendously. Life Application Study Bible is my favorite!
There are so many versions of the Bible to choose from as well.  This is where I would suggest you either visit a Christian bookstore (like Lifeway, ), so you can get your hands on it and read a bit or search Amazon or Christianbook.com and flip through it online.  I personally like the NIV version, but also popular: NLT, ASV, and a very easy read: ERV.
Now, you've got to get your Bible (or APP) and your journal and you're reading to get reading!
READING THE BIBLE: Psalms
We now begin with our actual reading and journaling.  I suggest starting in Psalms. Psalms are very easy to read, and they're also very short. So it will not be very time consuming. Now I'm assuming maybe you haven't started reading the Bible because it's a big undertaking and you're thinking, "Oh my gosh, this is going to take so much of my time." So that's why I highly recommend Psalms to start out with. I would suggest reading one Psalm each day.
This is exactly how I began reading and taking this daily time with God.  It was years ago and I was drowning in the sorrow of my singleness (check out my book on how I began my daily quiet time: But First, Pray)
Begin with Psalm 1.  Read the chapter
Pick out a verse that speaks to you.
Write that verse in your journal
Paraphrase that verse in your own words; write it out the way you believe the verse/God is speaking to you.
Use that scripture as a prayer to God.  You can write out that prayer or just speak that prayer to God.  I personally like to write the prayer out because you can go back in the future and read it to see how God worked in your life.
This is how I began with my daily Bible reading and journaling and it seems to be the easiest way to dive in.  This will get you in the Word daily and starting to understand it in a simple way.
What's truly amazing about Bible reading is, the more you you do this, you're going to see God making changes in your life, and you are going to want to read more.  Even though you think you have zero time for this, God will truly start working in your life and you will desire more and more quiet time with Him and shockingly, you WILL make the time for it.  That's what happened with me. I started with just 15 minutes a day, it has now become almost 2 hours a day. I love doing it, I look forward to every morning – getting my coffee, taking my Bible and journal outside and just spending that time with God every morning. My husband and I both do this together every morning. There truly is NO BETTER WAY to start your day!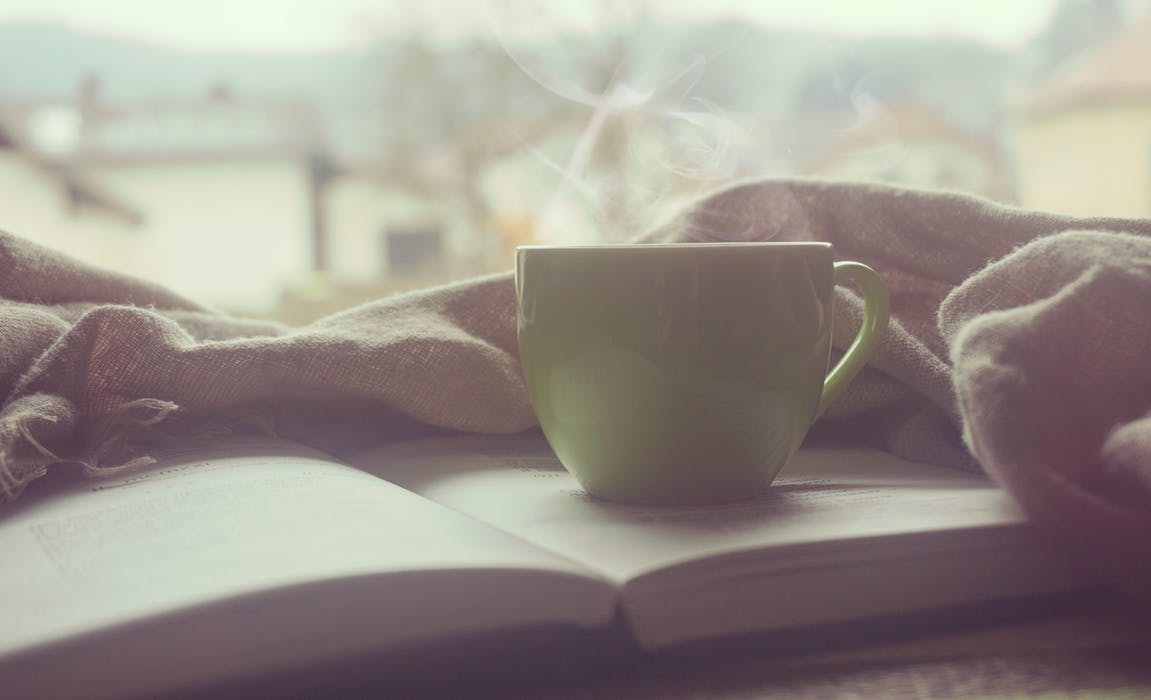 READING THE BIBLE: John
We are now on step #3 and we have finished Psalms.  I now suggest the Book of John.  It's time to jump into the life of Christ.  John is the fourth book in the New Testament and written by the apostle, John.  The Gospel of John, include the teaching of Jesus, his life, his ministry and his many miracles.  And of course his death on the cross.
I suggest you follow the same pattern for journaling in John, as you did in the Psalms. Read one chapter a day (if you find they're too long, break them down into halves.) I want you to pick out a verse that speaks to you. Journal about that, paraphrase it, put it in your own words – and use that scripture as a prayer to God.  Now you're really getting the hang of this!
READING THE BIBLE: Acts
it is now time to move onto the book of Acts.  Acts is going to explain a little bit more about the disciples and how the Holy Spirit worked through them.  We read about Christ's life, you saw how Christ died on the cross, you saw how he rose. And now we're moving into Acts where you really learn about the Holy Spirit and how the Holy Spirit works within all of us.
I read a great blog post from Unlocking the Bible.  In that post, Kevin Halloran encourages us to use highlighters to highlight different parts of Acts.  In this book, you will read more about the HOLY SPIRIT, PRAYER, AND WITNESS.   Kevin says, "Highlighting the Holy Spirit will encourage you to seek more the Spirit's power in your own life. Highlighting prayer will drive you to your knees and pray bold prayers to our loving and living God. Highlighting the bold witness of the apostles will encourage you to be a bold witness and remember the life changing power of the gospel to save sinners."
I just love this idea of highlighting these key topics in Acts. This will add even more to our daily Bible reading.  And of course, we will continue with our daily journaling routine.
READING THE BIBLE: Reading Plan
I'm hoping you ladies are still in the midst of your Bible reading and haven't given up yet!   I have one last step for you. PICK A READING PLAN
There are so many ways to find Bible reading plans and thank goodness we have the internet to search for them.  The APP, YouVersion has some great reading plans as well as Bible studies.  Your Bible should also have a reading plan in the front or back of the Bible.  If you want to search online, you can look for a one year plan or a longer one, depends on how much time you want to spend reading daily.  And last but not least, you can find an actual Bible, called the One Year Bible.  This will walk you through the Bible from the beginning in one year.  Picking out a reading plan will make it easier for you to know how to tackle the entire book.
You Got This!
By now you are used to reading daily and you have a routine down.  I am hoping with me sharing my journey on how I jumped into the Bible, this will encourage you to dive in, but in a quick and easy way.  As with anything, consistency is key and that is what will create this new habit in you.  Reading the Bible is an important daily task we need to master; no different than creating that habit of working and eating healthy.  God wants us to take care of our relationship with Him FIRST!!  But He also wants us to take care of the bodies He has blessed us with (that's a blog post for another day, HA HA HA!)
Remember, start small!  This is why I wanted to share my easy way to get our started.  If you decide you're going to read an entire book in one day, you'll quit!  You will be so overwhelmed and there's no way you'll keep that up.   Just like you're probably not going to go run a marathon your first day of exercising; you'll quit that, too!  Bible reading is the same, you've got to get it into a consistent daily habit, and then it's something you want to do every day. But not only that, you are going to see God working in your life. And you're going to see Him making such huge changes, that you can't wait to get into His Word every day…I promise.
Check out my YouTube video on this topic and don't forget to Like, Share, & Subscribe.  click on the notifications bell under the video so you miss no more videos!!  
[embedyt] https://www.youtube.com/watch?v=beAd0ykXw0I[/embedyt]
It is so important that we get into the Word every day. God gave us this guideline for living. This is His guidebook for us; it helps us live every single day. He wants us to read His Word, because guess what? That's how He speaks to us. There's many ways He speaks to us, but one of them, (read my blog post here: Is God Speaking to You) is through His Word. He shows us how to live our lives. So do your best to fit God's Word in every day.
I would love to hear from you!  Comment below if you have your own tips for reading the Bible or maybe you have questions of your own.  I would love to help you out and learn from you as well.
I've got an awesome FREE GIFT for you, just for being my friend!!  This will help you get started with Journaling. Get your FREE Guided Journal
HERE!
Have you joined my FREE online community of God's Gals?  
JOIN HERE!