Who has tried the famous Goo Goo Cluster?
I grew up eating these; it's a Southern "Thang" !!!!
I have been extremely blessed to be able to work for ME and be able to travel more with the love of my life, my hubby, Michael.  He recently had to go to Nashville for business and I jumped all over that.  Nashville is one of my favorite places to go!  We arrived, put on our boots and headed downtown to enjoy all of the amazing live music at many bars; my fave thing to do!
Lo and behold, we parked right next to the Goo Goo Shop!  I was beyond excited!  And it did not disappoint.  Just the smell alone in there is to die for! Of course, maybe you're asking yourself, what is a fitness coach doing inside a candy bar shop???  Well, I am human after all.  Yes, I enjoy a small treat every once in awhile, I just don't make it a habit, like it used to be.  Everything in moderation people!!
Did you know…The Goo Goo Cluster was the very FIRST combination candy bar?    I had no idea until I came to this store with the "museum" along the walls of the shop.  Of course, I bought some of my most fave Goo Goo's – the peanut butter one!  But here comes the crazy co-ink-i-dink part…..  I hooked up with my good friend from ATL (she has since moved to Nashville and me to SC) and she said to meet up with her after her event that was happening downtown.  So guess where her event was being held?????
THE GOO GOO SHOP!!  I was forced to go back to that piece of heaven, Lol!!  In one short trip to Nashville, I was able to go to this store twice!  And see my friend!
Her event was held in the back of the Goo Goo shop where they hold many events and team building, too.  Her event happened to involve making your own Goo Goo creation; sounds delicious!  Even the desserts they served were a combination of brownies, cupcakes and truffles, all made from Goo Goo Clusters!  I swear to you guys, this Peanut Butter Cupcake was the greatest PB dessert I have ever had!!   And did you know that Goo Goo is working on new packaging to say that all of their products are Gluten-Free!  Even this amazing cupcake I ate was gluten-free!!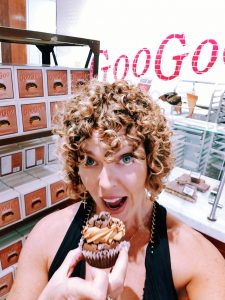 I even made a video giving all of you a mini-tour of the Goo Goo Shop. Make sure you visit this delish place the next time you travel to Nashville. You won't be disappointed!
Would love to hear how you like Goo Goos??  Have you tried one?  What is your favorite candy bar?
[embedyt] https://www.youtube.com/watch?v=zJjKYv5lcLc[/embedyt]