I have been spending my mornings with God for many years now. Can I say it was always easy to get into this daily habit??? 🤔 NOPE!!! Big Fat NOPE!!
Just like with anything, starting a new healthy daily habit is never easy. They used to say it takes 21 days to create a new habit, but unfortunately, now 'they' say, it takes 60 days 🤦‍♀️🤦‍♀️🤦‍♀️ Oh lawdy!!!
Never fear, GG is here!! I want to help YOU by giving you my morning routine and how it can work for you, no matter how busy you are.
Why add one more thing to your MORNING ROUTINE...
I am betting you are one busy lady and you don't want to wake up any earlier or add one more thing to do. BUT…wouldn't you like to have someone in charge of your day? What about someone guiding your every step? Or, maybe you have a very stressful job and you could use some help with that? And even better, your schedule is out of control and you need some relief???
Well, guess who can help you with all of that???? NO, not an assistant (although that would be great, too 🤣) – I am talking about our Heavenly Father – GOD!!! Yes, He can be in charge of every second of your day, IF, (and that's a big IF) if you allow Him to do that. How do we make that happen? You start your every single morning with Him!!! And yes, even if you are one crazy busy lady, I'll teach you how to do this in a short amount of time.
7 Steps to a Life Changing Morning
I've got a FREE guide for you! It's my 7 steps that I use every morning and it did TRULY Change my Life!!!
---
New Here?
Check out some of my recent posts about this topic:
How to Treat Your Body like God's Temple
Easiest Ways to Read the Bible
---
I treasure every single morning that I can spend alone with God. My hubby and I both do this every single morning. We both adore this time with God daily.
The book that started it all… The Bible & Jesus Calling
When I first began my daily quiet time with God, I had NO clue how to start. So I literally just grabbed my Bible and started with Genesis 1. Hey, why not just start at the beginning!?!?!?! The book, Jesus Calling, had just come out and I heard such amazing things about it, so I started reading that too. Can you believe, all these years later, I still read that book every single day!!!
I want to share with you below, exactly what I do every single morning, BUT….please don't let the long list scare you. 😱 I didn't always do all of this from the beginning. And I know how valuable your time is. So, please check out my previous blog posts (see above ⬆⬆) for shorter morning routines that are perfect as you start out. I just want you to see how God has completely rearranged my schedule so I am able to spend ALL of this time with Him each morning. Sometimes I spend one hour and sometimes 2! I will put in BOLD below, the ones that are most important for you to start out with. And keep in mind, some of these items you can add throughout the day to keep your focus on God – for example, listening to worship music in the car, listening to your recorded affirmations while getting ready, daily gratitude before you go to bed, etc…. BUT, it is important to spend time in prayer with God first thing every morning, this is why I emphasize making this time with Him daily.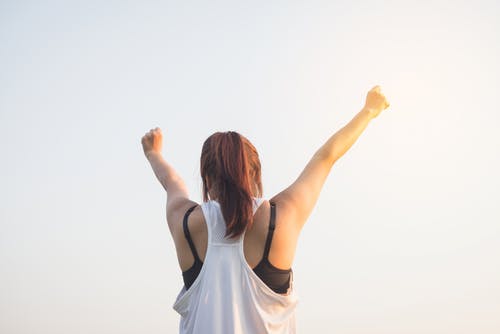 My Morning Routine
PRAISE – the minute I wake up, before I even roll myself out of bed, I say a little prayer of gratitude to God
WATER – I keep water by my bed and drink half the bottle the minute I get up. Our bodies get dehydrated as we sleep and it's important to replenish right when you wake up; also helps your body wake up.
ACV & LEMON – I love to start the day with my apple cider vinegar, lemon juice and warm water. The health benefits of ACV and lemon are so endless, it would have to be a whole new post on its own 😁🥃
COFFEE & SUPPLIES – I grab my coffee, journal, bible, devotionals and hit the patio☕📘
GRATITUDE – I start my prayer time with writing down the date in my journal and write 3 things I'm grateful for
BIBLE READING – I read the bible verse from my God's Gals Tribe daily devotional (wanna join???? Click Here – God's Gals Tribe) I literally walk you through, step by step, exactly what to do every day with your God-time.
JOURNALING – I journal about the verse I just read, and write a prayer using the verse (wrote a blog post in detail about journaling – How to Reach God Through Journaling I continue journaling using MY journal, the one I created myself. Haven't bought it yet? Check it out: Journaling Faith and Feelings into Action This is a guided journal where I take you step by step through various daily issues we women deal with. If you'd like just a pretty blank journal, here's a good one: Journal and you can even hit the Dollar Tree for an inexpensive one.
DEVOS – Depending on time, I read through several of my fave daily devotionals (see Jesus Calling above)
WORSHIP – I turn on the worship music (using Amazon music) and use the music as my prayer and worship time
PRAYER – It's now time to chat with God to finish off my daily routine. In my God's Gals Tribe, I am actually teaching the ladies, step by step, how to pray – I know it sounds so easy, but there are great ways to follow steps with your prayer time rather than just our babbling to God the same thing day in and day out.
AFFIRMATIONS – My prayer time is officially done, but as I start to get ready in the morning, I have begun to use an app called, ThinkUp, which I just love! So now this is part of my morning routine. In the free version, you can record up to 5 daily affirmations and listen to them throughout the day. I record Bible verses and God-centered affirmations and also prayers as part of my affirmations.
WORKOUT – now it's time to get my "fit on!" Either I go for a walk or bike ride along the beach or hit the gym. I alternate gym days with cardio days. I also add in worship time during my workouts – either with a sermon on podcast or worship music. It's important to fit God in all day long!
---
Tell me about your morning routine…I'd love to hear how you spend your mornings. It also helps us all out getting ideas from others.
I've got an awesome FREE GIFT for you, just for being my friend!!  This will help you get started with Journaling. Get your FREE Guided Journal HERE!  
Have you joined my FREE online community of God's Gals?  JOIN HERE!