2019 God's Gals' Christian Women's Wellness Retreat
OCT 13th – 16th, 2019
More details coming soon
Contact me to reserve your spot early
---
2018 Stronger Together!
Christian Women's Wellness Retreat
OCT 21st – 24th, 2018
Join like-minded Christian women for a relationship building experience at the beautiful and tranquil Dahlonega Spa Resort located in the Blue Ridge Mountains.
It is time to connect with women in Christ to support each other in our personal and professional growth.
Stronger Together is a team building retreat centered on working together to encourage each other's goals with a focus on developing Mind, Body & Faith.
[embedyt] https://www.youtube.com/watch?v=BlohL5_TlVM[/embedyt]
Stronger Together is hosted by Fitness Coach GG Mack and Psychotherapist Glenda Grimsley. This mother-daughter team worked thoughtfully to create a fulfilling and meaningful retreat experience to assist in your personal and spiritual growth as it relates to building a stronger and more successful community of Christian women by networking and inspiring your entrepreneurship spirit.
Even if you are not looking to grow in your business, or are retired and want to make a meaningful bond with other like-minded women, please feel welcome. Success is greatly enriched by a variety of wisdom. We can all learn from each other.
GG is a Fitness Coach with over 20 years in the fitness industry. She has a passion for the Lord, guiding others to live a healthy lifestyle, and inspiring women to make a living doing what they love. GG will be teaching a variety of fitness classes and Christian yoga.
Glenda is a licensed Psychotherapist with over 18 years helping people work through their adversities and live a brighter life. She will be leading Mindfulness workshops, meditation practice, and private sessions (for an additional charge.)
This All-Inclusive Event includes: 
3 nights, 4 days accommodations
All meals, healthy-buffet style (vegan and vegetarian options, as well)
1 Spa Treatment
Wine Tasting at a local winery
Bonfire Night
Morning Prayer and Devotional time
Daily Fitness Classes
Mindfulness Workshops & Meditation
Networking Towards Success Mingle
Since this is a team building event through a personal development movement, bring a friend. There are group discounts available to groups of 2 or more. This is an excellent time for moms and daughters to build a stronger connection, friends to grow together, and new relationships to begin.
Double – West Wing – $929 (per guest)
Double – Cabin – $975 (per guest)
Single – Main Inn or West Wing – $1150 (per guest)
Single – Cabin – $1240 (per guest – email me at ggmackcoach@gmail.com to book a single cabin due to high demand)
DISCOUNTS for groups of 2 or more***
Final day to sign up: September 30th.
Space is Limited!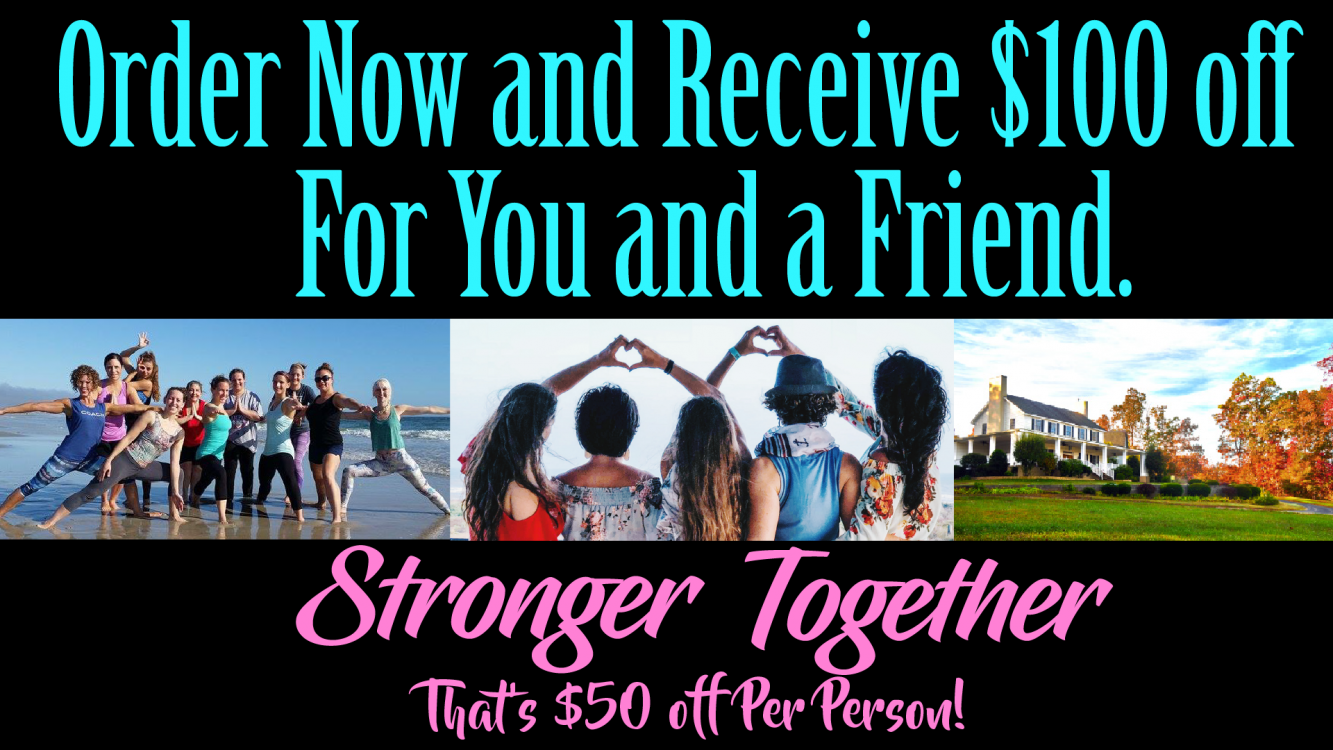 Reservations booked by September 30th, 2018 that Bring a Friend will receive $100 Buddy Pass                                                                    (applied as a discount when booking a party of 2 -$50 each)
FREE –
Faith, Health & Mind Guided Journaling Book upon arrival.
————————————————————————————————————————————————–
[wpeevent id="2143″]
————————————————————————————————————————————————–
[wpeevent id="2142″]
————————————————————————————————————————————————–
[wpeevent id="2141″]
————————————————————————————————————————————————–
[wpeevent id="2140″]
————————————————————————————————————————————————–
We also invite you to sign up for additional spa treatments, private counseling sessions, hiking, paddle board, yoga, shopping in the cute town of Dahlonega, soak in the jacuzzi, or maybe just reading on the porch!
We all have to work together in order to reach our potential. By establishing a network of like-minded women, we can achieve what once seemed impossible. We start by building relationships that increase our faith, reach, and impact.
We are Stronger Together! – GG Mack
Contact Information for Bookings and Additional Information:
www.ggmack.com
ggmackcoach@gmail.com
Dahlonega Spa Resort
400 Blueberry Hill, Dahlonega, Georgia 30533
Oct 21st – 24th, 2018
[easy-image-collage id=1803]